On the road rumbo Cannes, una reunion con Kristen Stewart. La estralla de Twilight ya es la nueva protagonista en una nueva franquicia: Snow White and the Huntsman, una toma obscura en el famoso cuento de hadas sale este Julio. Entre interpretar a Bella y a Snow White, la actriz de 22 años, modelo a seguir de millones de niñas en el mundo, ha tomado un nuevo reto consigo misma con un rol de adulto: ella estara en competicion en el Festival de Cannes con On the Road, una adaptacion cinematografica de la novela con gran exito de la generacion, dirigida por Walter Salles .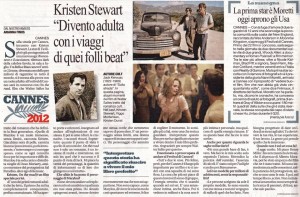 "El de Marylou es un papel muy importante, sin limites" dice Kristen. Una chaqueta obscura de cuero, con blusa y vaqueros limpios, Kristen habla despacio, ella constantemente se detiene para corregirse a si misma, white shirt and clean jeans, Kristen speaks slowly, she often stops to correct herself, como si cada concepto fuera importante y dificil para ella. Marylou es la sexy y sin inhibiciones esposa de Dean Moraty, amigo y mentor de Sal Paradise, el otro yo de Kerouac.
Kristen, On The Road es una película especial para ti
"Fue uno de los primeros libros de adultos que lei. El primero en conquistarme por completo, casi me obsesionaba. Abrio puertas y nuevos horizontes para mi, me enseño a ir y descubrir mas sobre mi misma. Ademas, amo los diarios, cronicas, historias de la vida real. Especialmente cuando es contado desde un punto de vista externo. OTR no es "solo una novela", es un ensamble de realidad y ficcion, una mezcla entre lo que realmente paso y el punto de vista de Jack. Me gusta la veracidad de los personajes, la cantidad de informacion acerca de ellos que ha llegado hasta nosotros, sin ser tocada"
¿Que tipo de reto fue para ti interpretar a Marylou?
Tuve que ir y explorar territorios emocionales donde nunca he estado antes. Tuve que empujar hacia adelante, buscar algo dentro de mi que ni squiera sabia que tenia. Ella es un personaje sin limites, una mujer capaz de tener relaciones unicas. Es un personaje que realmente admiro pero no me pertenece. A diferencia de Marylou, soy incapaz de vivir cosas en una forma tan espontanea y extrema, feliz de vivir el momento. Yo soy mas como Sam, me gusto ver que las cosas pasen. Ser parte de esta pelicula fue vivir en mi libro favorito. Siempre estaré agradecida con Walter por esto.
¿Estas emocionada o preocupada acerca de ir a Cannes?
Ambas. Mas feliz, por que Cannes es el lugar mas importante para una pelicula y voy con un equipo del cual me siento orgullosa. Lo que mas me gusta de mi trabajo es el sentido de ser un equipo, la energía creativa que compartes cuando estas en un set. Es un sentimiento intimo incluso fisico. Después miles de personas lo ven, y ya no es pesonal e intimo, pero algo de esa energia permanece. Baso mis decisiones sobre eso.
¿Es lo mismo cuando se trata de grandes franquicias?
Tengo una gran base fan, es verdad. Pero baso mis decisiones siguiendo mi instinto. Yo reclamo la pureza del exterior , la falta de calculos. Esto fue para Twilight y para SWATH.
Eres el modelo a seguir de millones de adolescentes, ¿sientes la responsabilidad de eso?
La gente escoge sus modelos a seguir por si mismos. Yo soy honesta conmigo misma y no estoy avergonzada de nada que haya hecho. No deberías planear en dar cierta imagen de ti misma a las personas. Tu solo deberías vivir tu vida, tus experiencias, tu trabajo. La gente toma lo que quiere.
¿Que es lo que usualmente haces cuando estas en un set?
"Leo mucho. Realmente me gusta Henry Miller. Recientemente lei Moravia's "Contempt", despues vi un poco de la pelicula . Me vi a mi misma en la paranoia, la obsesion del protagonista, apesar de que no son enteramente mios. Y, en mi tiempo libre, escribo. No estoy interesada en la ficcion: Simpre estoy buscando por ideas, oraciones o simplemente palabras"
Fuente:
KStewartItalianFans
Traducción al inglés @
cartrux
vía
KStewartNews
Traducción al español:
RobwardandKrisella
Gracias por la Via:
TodoTwilightSaga